The Victoria Banjo Club was originally formed in 1932 by Charles Bowden and was later run by his son Ian. During the height of its popularity from the 1930s to the late 1950s, the Club had a headquarters and music store in central Melbourne and boasted a membership numbering in the hundreds. Its motto was "to create music is the greatest thrill".
The Victoria Banjo Club was originally named Melbourne Banjo Club, which was established in the 1920's by Conan E. ('Bill') Andrews.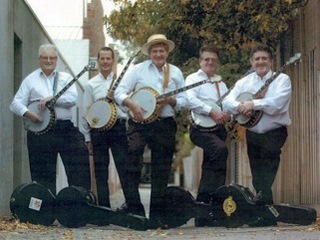 Thanks to its innovative "hands-on" teaching methods, the Victoria Banjo Club brought out the musical skills of adults and children alike and many leading banjo players featuring in today's jazz bands learnt to play through the Victoria Banjo Club. The Club gave concert performances in venues such as the Melbourne Town Hall , made regular appearances on several of the most popular Melbourne radio stations and provided spectacular floats featuring massed banjo players for Melbourne's famous Moomba parades.
The "new" Victoria Banjo Club aims to continue the tradition and carries with it the blessings of The Bowden Family. Many current members, still playing in their 60s and even their 80s, originally learned their craft from the Bowdens and are ready to pass on a lifetime's experience to younger players.